---
---
No more neck pain from long hours of using your computers with PcStand!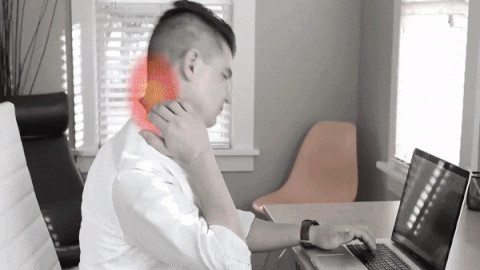 Tired of having your laptop on your lap? Discover our new laptop stand! Perfect for studying, zoom meetings and more! It's fully adjustable and includes a cooling fan to keep your laptop from overheating.

A laptop is typically used on a variety types of surfaces such as a table, desks or on your lap for most cases. Plus, if you regularly work with a laptop, you should pay special attention to your posture. When your laptop is on a table or a desk, the screen is usually too low when it comes to your vision field, which can lead to neck, shoulder and back pain, as well as eye strain. To prevent this from happening, you need a stand to add height to your laptop, which will align the screen with your eyes.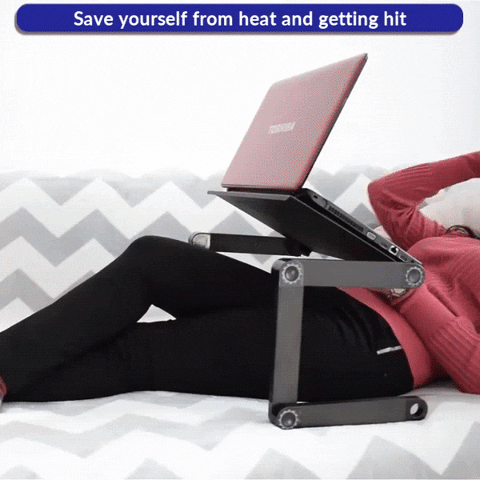 Benefits:
Ventilated Adjustable Laptop Stand - PcStand is the perfect solution to create a better ergonomic setup while working or studying. With this stand, you can elevate your laptop slightly forward to have a healthy angle for typing or reading. It can be adjusted to allow you to have the best posture. Plus, you can fold it flat when not using it so you can store it neatly in your bag and take it with you wherever you go!
This versatile laptop stand will keep your laptop from overheating that may affect its performance and damage internal hardware.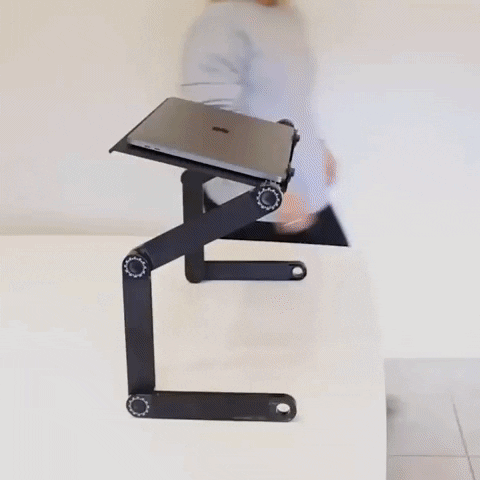 Do you like to work standing up and never like to work in the same place? PcStand will transform any table and surface into a standing workstation. Even seated, it will let you work comfortably on your computer.
Maybe you like to relax watching your favorite shows on Netflix or AppleTv from your laptop. This adjustable stand is perfect for supporting your computer even in the most unusual positions!
Features:
Ventilated Adjustable Laptop Stand - PcStand is made of high quality magnesium aluminum alloy
Adjustable height range: 48 cm
Adjustable angle: 0-360 degree
Panel dimension: 42×26 Cm
Folded dimension: 53x26x4cm

Suitable for all laptops up to 17 inches. (Also for tablets and books!)

Platform design: breathable
Mouse tray: 18 cmx16 cm
Support leg (6 pieces): 26 cm

Ventilation system with USB connection cable

This adjustable laptop stand can hold up to 15 kg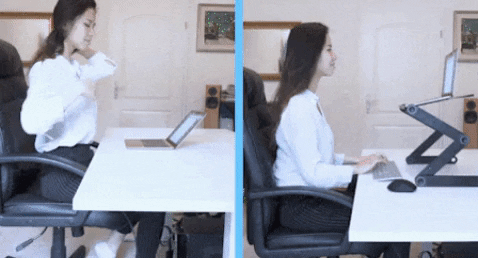 Reminder: To adjust the angle, press the button beneath the laptop tray, you can adjust the angle, release the button, and the stand will automatically lock.
The package includes:

1x Ventilated Adjustable Laptop Stand - PcStand

1x Mountable mouse tray

1x Instruction manual
Thanks to PcStand, your computer stays perfectly in place, without slipping, and your posture will be better than ever!
----------------------
---