---
---
Are you tired of having to plug your wire to charge your phone?
Tired of looking for your charging cable?
Make your charging experience easier with the Ouija Charge - Magical Ouija Charger, available at oDeals24!
The Ouija Charge - Magical Ouija Charger makes charging a funny experience!
Once your phone is placed in the middle, the map will instantly start to take shape, the lights will start to turn on, at the same time as the music does! All up to the full charge of your phone.
The Ouija Charge - Magical Ouija Charger is equipped with temperature control, short circuit prevention to avoid the risk of overheating during the charging process.
It is designed with the latest generation of intelligent control chips.
If you don't want the music, you can always turn it off by tapping 6 times in the center of the charger.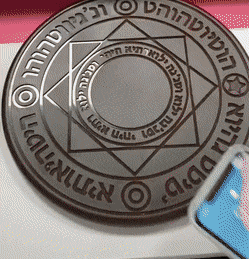 Features:
- Safe to use
- Up to 244 LED lights
- Dual interface: Type C and micro USB
- Medieval pottery design with silky smooth texture
- High quality rubber material
- High temperature automatic stop
- Ultra thin design
- Maximum compatibility:
iPhone 8, Plus, X

Samsung Note 5, 6, 7, 8

Samsung S6, S6 Edge, S6 Edge Plus, S7, S7 Edge Plus, S8, S8 Plus, S9, S9 Plus

Xiaomi MIX2S, 7

Huawei P11 for HTC OZY
Important notes:
This item only works with mobile phone with wireless charging function.

Take out your metal material phone case before charging.
The package includes:
1 x Ouija Charge - Magical Ouija Charger
1 x USB cable
No more running out of battery, no more tangled wires!
Your phone charging has never been so easy. 
Start charging your phone with magic!
Order your Ouija Charge - Magical Ouija Charger today!
---