---
---
The revolution in hair curlers has arrived!
Get spectacular wavy curls in just minutes!
Finally a curler with no hassle, no cord!
In the busy, fast-paced nature of the modern woman's lifestyle this wireless Magic - Perfect curls technology strives to make styling your hair easy, convenient and fuss-free. Have perfectly curled hair in under 10 minutes using our innovative Magic - Perfect Curlsso you can curl your hair anytime, anywhere!
Unlike a traditional curling wand, the Magic - Perfect Curls doesn't have a pair of ceramic irons sticking out of its body. Instead a curling column is built into the centre. In order to curl your hair, you slide a lock of hair through the gap at the top. When you press the rotation key, the curling column spins around in a circle. Leaving you with natural looking curls every time. The process is quick and easy, and with no exposed ceramic you can't accidently burn your fingertips handling this cordless hair curler.
How does it works?
The Perfect Curls is covered in a layer of nanosilver and tourmaline particles. These particles create an evenly heated area and release negative ions that penetrate your hair follicles as you curl. The result? Better looking curls and less damage to your hair!
When curling your hair, heat matters. A hair waver set too high may burn your hair strands; too low and you'll scarcely notice a difference. Luckily, the Magic - perfect Curls has six different heat settings between 150-200ºC that are great for different kinds of hair. If you've got fine or thin hair the lower settings will keep your hair intact, while the higher settings are great for curls from coarse or thick hair. 
Features:
- Fast Heating: professional tourmaline ceramic barrels heast very quickly and gives your curls a shiny look without any damage
- LCD display: Large LED display presents clear temperature, direction, and timer, it presents more readable and convenient use.
- Efficient and Safe: Our hair curlers can be heated quickly and its cordless design can maximize your modeling efficiency. It is equipped with a safe and non-toxic insulating material inside the curling room which can protect your from burns when you use it.
- Temperature / Timer / Direction adjustable: 150-200℃ temperature selections, 8-18s auto curling timers, as well as curling direction (left and right) together allow to form a perfect loose or tight curls easily, saving a lot of time.
- USB rechargeable and power bank: Built-in 2500mAh lithium-ion battery enables super convenient cordless use. Meanwhile it can also be used as a power bank.
- Easy use and Portable:  The barrel will auto spin around and wrap section of hair into curling chamber. Easy to carry when traveling, can curl your hair anytime and anywhere.
- Suitable for all hair types
- Wireless and ergonomic design
How to use it?
1. Hold down the on/off button (lower right). Wait until the Magic - Perfect Curls heats (flashing indicator will stabilize). Adjust settings by pressing the power button with a quick click until the symbol you wish to adjust, flashes. Adjust using arrow button (lower left).
2.  Place segment of hair (up to 2cm) into the barrel, press and hold 'Start'. Button (middle oval). Keep button Depressed until you hear 1 beep.  Release button. Hair will now be in barrel and you will hear individual beeps for the number seconds you set timer adjustment to show.
3. Hair is finished once you hear 2 beeps in quick succession. Move 'Dreamwave' straight down away from the hair. Your curl is now done; wait to cool before brushing.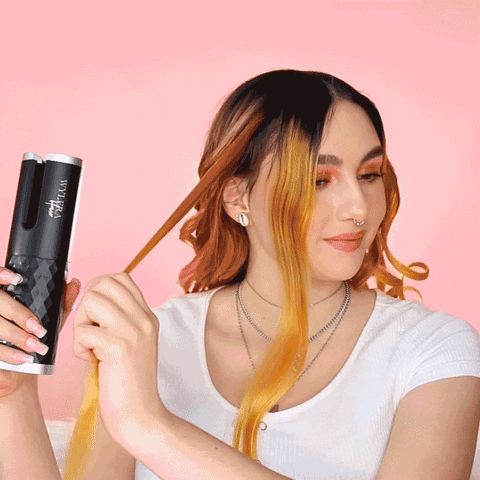 Specification:
Dimensions: W5.5 x H19cm

Weight: 500g

Battery: Lithium-Ion rechargeable battery

Battery life: 40 minutes continuous use

Charging time: 3.5 hours

Charging port: MicroUSB

Temperature range: 150-200ºC
The Package includes:
1x Magic - Perfect Curler
Have perfectly curled hair in under 10 minutes!
Choose your color and order now!
---