---
---

Enjoy creating your own magical music with this Kalimba Piano - KaliMusic!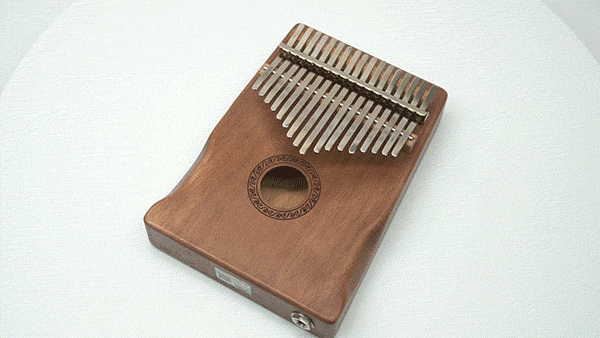 This Kalimba Piano - KaliMusic is an easy instrument to play, to get started you just need to be able to move your thumbs or forefinger well enough to directly press the keys with gentle force. Then will be able to adjust the sound of each key with the tuning hammer included in the package. The keys are numbered so you'll be able to learn how to play on your Kalimba within 5 minutes!
Make the most complex sound experience using your thumbs, fingernails, and knuckles. This Kalimba Piano - KaliMusic is a 17-key extended version for more sound options and more joy!
Kalimba is a soundboard that acts like an amplifier. To achieve the maximum sound, it'll be better to hold it between your legs or use a relevant support that holds it, you can also simply hold it just with your hands and enjoy making music where ever you go! This instrument sounds louder when not placed on a surface, like a desk or table.
You will obtain a perfect sound with this beautiful Kalimba Piano - KaliMusic. The instrument has already been tuned, once you open the package, you won´t have to worry about that. When you need to tune it again, you can easily use the tune hammer included in the package.
The Kalimba Piano - KaliMusic package, also includes a cloth, a carrying bag and three sets of stickers (red, green and one with the 17 notes). You can add them to the metal bars to mark them or where ever you want as they won´t leave any residue once removed.
This Kalimba Piano - KaliMusic is strong enough so you can take it with you anywhere. Made of strong quality wood, the instrument needs. However, to be transported with care.
Features:
Beautiful laser printed finish
High quality materials
Great amplification
Each product has been rigorously tuned prior to packaging to ensure that the tone is excellent

Its tone is the same as a piano 

Clear sound
The consolidation of double restraints makes the kalimba produce a clear and melodious sound, long-lasting and without murmur
With 17 thick steel keys and a solid wood body, an enhanced resonance is achieved.
Easy to carry
With the instruction booklet for playing the kalimba, you can learn to play the instrument, without having any previous experience!
It comes with an engraved notation on keys, making it great for beginners and kids
International tuning in C. With 17 keys / notes: 1 (Re), 2 (B), 3 (G), 4 (E), 5 (C 5), 6 (A), 9 (C 4), 10 (E), 11 ( Sun), 12 (Si), 13 (Re), 14 (Fa), 15 (A), 16 (Do 6), 17 (Mi)
An excellent option to relax, enjoy, travel, etc.
The package includes:
1x Kalimba Piano - KaliMusic

1x Tunning hammer

1x Storage Bag

1x 3 Stickers

1x Instructions Manual
Discover your musical creativity with this beautiful Kalimba Piano - KaliMusic! Choose your favorite color and order yours today!
---