---
---
No more need to worry about the sun once at the Beach! With the Instant Pop up Tent you can have the shade you want when you want it!
Some history about the tent:
Tents are a fundamental tool for camping and hiking.  They're used across the world for recreation and for survival, and there's no more iconic symbol of man's experience with nature.
Originally, tents served as homes, and used in a variety of environments for keeping dry and safe. 
The design of the modern tent is still quite similar to what the original tent probably looked like: a piece of fabric draped over some poles.  However, tent materials and features have changed dramatically over the last several decades, with new features and materials greatly improving its basic functions.
Tent materials changed drastically in the 20th century.  Rigid support poles weren't made from wood anymore.  Instead, manufacturers used steel and eventually plastic.  Flexible support poles eventually gained favor with campers and guy ropes became less common.  Some newer tents can be set up in a matter of seconds, and with the introduction of materials like nylon, tents became more resistant to the elements.
Over the last few decades, tent designers made a number of adjustments to the basic style of the survival tent. Among them the Pop up Tent, the easy way to do camping, going to the beach or even going on a picnic. With the Instant Pop up Tent you are certain you will find some comfortable shade at anytime with just a few  hoops you can set it up almost instantly.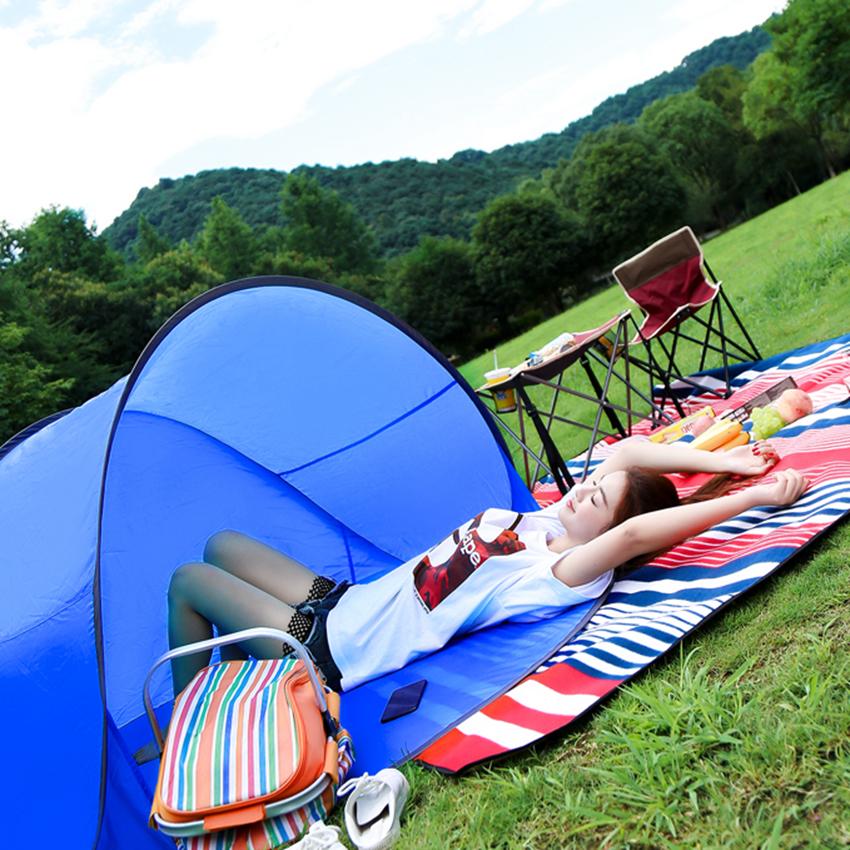 Features:
- Fast Set Up & Pack Away: Forget confusing tent instructions and complicated poles, our Instant Pop Up Tent automatic pop-up design allows you to setup in just seconds, and pack away in minutes
- Good Ventilation: The open-door design and rear mesh fabric window ensure the tent is always well ventilated to keep the inside cool and breathable, even in the heat of summer, you can stay away from heat
- Lightweight Design: The tent has been specifically designed to be lightweight and easy to transport. Weighing only 1 kg, you can take it everywhere, the park, the beach, nature...
- UV Sun Protection: The beach tent is lined with a UV protection silver coated fabric that provides a comfortable shelter for you and your family
- Waterproof: especially design with poliester fabric with water resistance coating, so no need to worry in a sudden rain The practical design allows you to shelter from the rain
How to install:
To pitch the your Instant Pop up Tent, simply remove it from the carry bag and let it 'Pop-Up'. Fill the external pockets with sand or use the included poles to quickly secure the tent to the ground. That easy!
The Package Includes:
1 x Instant Pop up Tent

5 x poles

1 x Carry Bag
Grab your tent and feel free in the shade to enjoy the beach!
Order  yours today!
---