---
---
Make your kids love to brush their teeth with this new Kids Ultrasonic Toothbrush!

This new SonicKid ultrasonic electric toothbrush for kids will guarantee excellent oral health for your child! SonicKid is more effective than manual brushing as it cleans thanks to ultrasonic vibration. It cleans between the teeth and along the gums. This sonic electric toothbrush provides healthier gums and cleaner whiter teeth.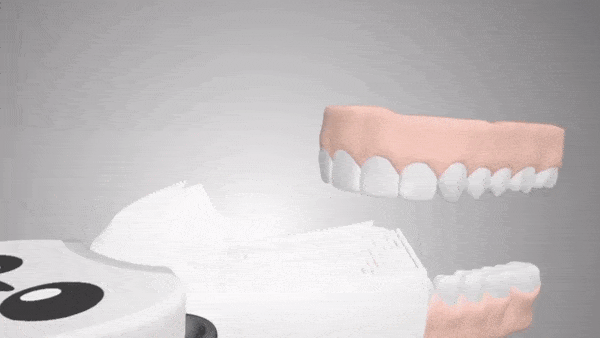 Studies prove that when using this Ultrasonic Toothbrush for Children for at least 1 minute a day, every morning, most of the remains and residues are removed perfectly and without pain or effort. Most importantly, your children will have a great time with their cute Sonic Toothbrush!

Teeth look noticeably cleaner and whiter after just one week of use! Your child's bright white smile in the mirror will prove that you don't need expensive treatment at a dental clinicto to get great results!
SonicKid is the best electric toothbrush that generates thousands of sonic vibrating movements per minute, thus removing far more plaque than a manual toothbrush, preventing the build-up of tartar. Brushing teeth will no longer be like a punishment for your little ones thanks to this Ultrasonic Toothbrush for Children - KidSmile!
How does Sonic Brush work?
Its V shape has small bristles that generates a thousand of sonic vibration movements per minute that allows you to eliminate more tartar than a regular toothbrush. You will feel the power of this ultrasonic brush and see the difference starting the first application.
finally a sonic toothbrush specially thought and designed for children
Its design and light weight make it very fun to use for children
Fast and long-lasting results
It will guarantee the necessary oral health for your child
Generates thousands of sonic vibratory movements
Available in two different sizes for different ages
Your children will have a great time with SonicKid 
Gently removes tartar, stains and protects teeth

USB charging

Available in 4 colors so you can choose your child's favorite color
Before turning on for the first time, let it charge for 3 hours

Add some toothpaste

Turn on and place in the mouth

The brush will turn off automatically after 30 seconds

Remove and carefully wash only the part that includes the fibers

Do not get the bottom part a wet
The package includes:
1x Electric Toothbrush for Kids - SonicKid
With SonicKid, your little ones won't stop brushing their teeth even if you ask them to!


Make that task a fun game to them and get them SonicKid NOW
---